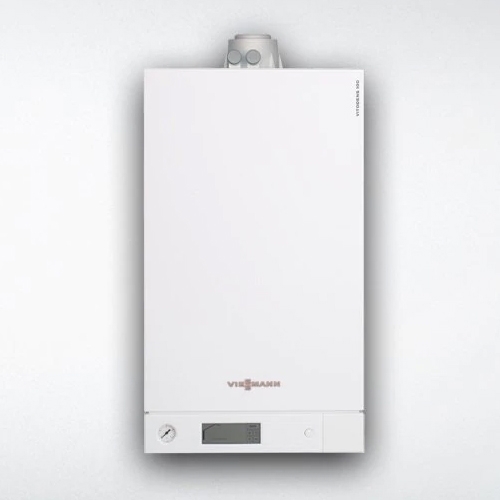 Gas-fired wall-mounted condensing boiler with modulating stainless steel cylinder burner and Inox-Radial heat exchanger surface. Rated input: 21 to 125 MBH
Vitodens 100-W – The perfect mix of performance, quality and value
The benefits at a glance
Vitodens 100-W, B1HA space heating boiler and Vitodens 100-W, B1KA combi boiler fits any home and budget with high performance at an attractive price.
Outstanding efficiency of 95% A.F.U.E. on all models.
Low-emission combustion with fully-modulating Viessmann stainless steel MatriX cylinder burner for natural gas or propane.
User-friendly backlit LCD touchscreen boiler control.
Lasting performance with proven Viessmann stainless steel Inox-Radial heat exchanger constructed to CSA B51 and ASME Section IV.
Suitable for altitude levels of up to 10,000 ft. / 3,000 m.
Easy installation and service with pipe connections located at the bottom and serviceable components accessible from the front.
Extremely quiet operation; quieter than most refrigerators.
Built-in on-demand domestic hot water (DHW) with Vitodens 100-W, B1KA Combi boiler. Ideal for apartment units or houses with small mechanical rooms and a single DHW draw point.
Every home. Every budget.
With its outstanding design and price/performance ratio, the Vitodens 100-W is the perfect mix of performance and value. Its compact design, zero clearance to combustibles and extremely quiet operation make the Vitodens 100-W an ideal choice even in the smallest spaces. Plus, with a limited residential lifetime warranty, you can be sure your investment will deliver long-lasting, value year after year.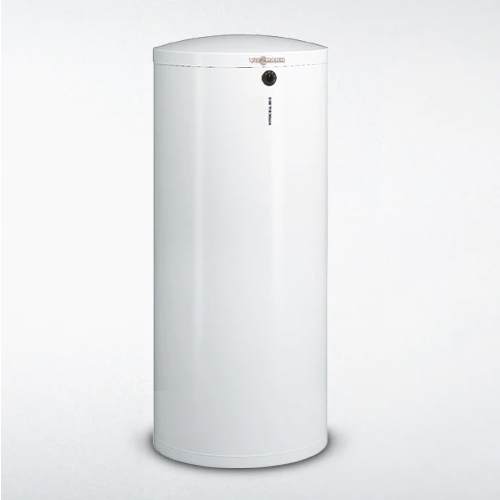 Stainless steel domestic hot water tank for a lifetime of hygienic domestic hot water heating. Capacity: 42 USG / 160 L
Hot water comfort for life
Vitocell 300-W single-coil domestic hot water tanks are made of high-alloy stainless steel to satisfy the highest expectations with respect to hygiene, recovery rates and service life expectancy.
The benefits at a glance
Long service life due to corrosion-resistant hot water tank and heat exchanger coil construction of high-alloy stainless steel.
No sacrificial anode required for additional corrosion protection; therefore no anode replacement costs.
Heating of the entire water content by a heat exchanger coil extending to the tank bottom.
Reliable hot water comfort due to fast, even heating with large-diameter 1.25″ non-finned heat exchanger coil.
Minimal standby losses through highly effective foamed-in-place HCFC-free insulation.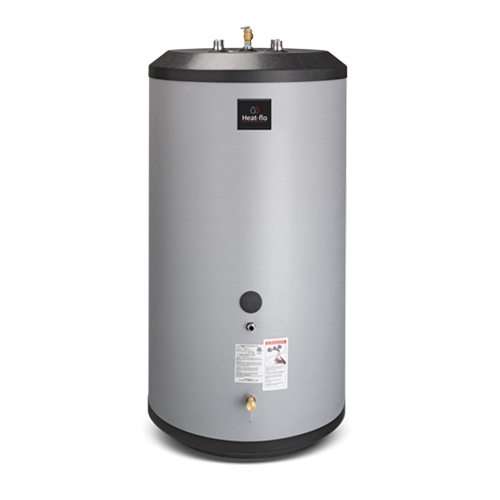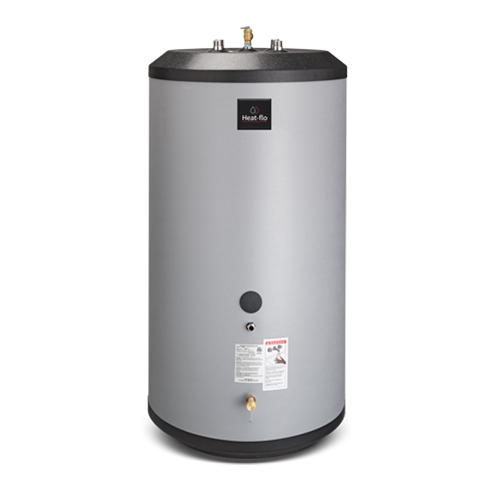 Heat-flo's high efficiency indirect water heaters are made with quality stainless steel materials that provide excellent heat transfer and a longer tank life, as well as abundant hot water and low operating costs. Indirect water heaters work in conjunction with a boiler to heat the water that's circulated through the heat exchanger in the tank.
When paired with an high efficiency boiler, Heat-flo's indirect water heaters can generate over 50% more hot water than many water heaters of similar size.
Quality Design and Construction
Tanks and coils are all stainless steel construction.
Large, smooth-wall coils deliver full output for years – no finned tubing to collect lime and sediment.
Over 2″ of insulation, providing less than 1° / hr. heat loss.
Flexible thermoplastic jacket that will not corrode and resists denting.
Easy Installation
All connections are on top on the standard units for a neat, quick, and clean installation.
Brass drain and relief valves are factory installed.
Honeywell L4080B Aquastat control is standard.
Residential and Commercial
Models are available in 30, 40, 50, 60, 80, and 115 gallon sizes.
Bank together 80 and 115 gallon units for applications with high water heating demands.
Limited warranty residential installation, 5 year commercial.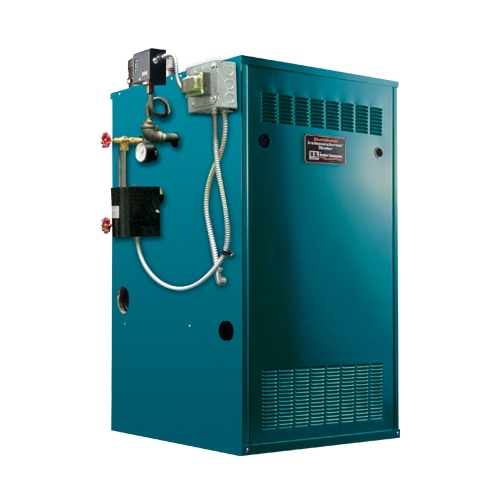 Independence
Gas, Steam
Cast Iron Heat Exchanger
For Residential Steam Applications
The Independence is a residential, gas-fired boiler for steam systems. It is available for either natural or LP gas and has AFUE ratings of up to 82%. Its large water volume and durable cast iron sections make it an ideal replacement for even the most challenging steam heating system. Standard equipment on the Independence includes cast iron push nipples that provide a permanent, watertight seal between sections, Honeywell operating controls, vent damper, and a rugged steel base assembly. A deluxe, insulated, powder-coated steel jacket completely encloses gas valves and burners, and reduces boiler heat loss. The exclusive Independence PV models have been specifically configured to operate as direct vented products for installation in homes with a damaged or irreparable chimney.
Natural or LP gas
Rugged cast iron heat exchanger
Stainless steel burners
10 sizes to meet your specific needs
Optimum venting flexibility
A limited 10-year heat exchanger warranty, plus a one-year manufacturer's parts warranty
Optional 5 or 10-year parts & limited labor warranty
Extended Boiler Warranty Plans are administered by CornerStone United, Inc.
Independence Product Data Sheet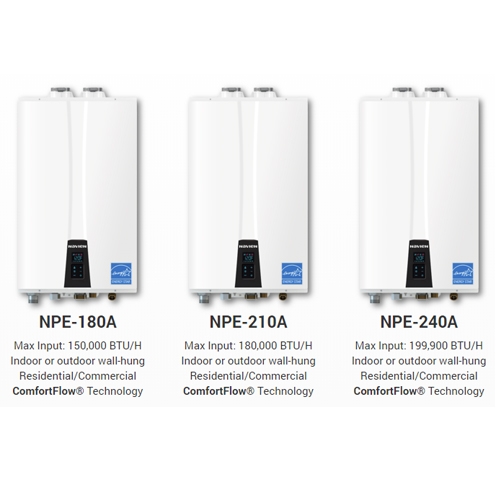 Navien makes it easy to go tankless for commercial and residential applications
NPE-Advanced
The most advanced condensing tankless water heaters in the industry with exclusive ComfortFlow® technology for continuous hot water.
Exclusive ComfortFlow® internal recirculation pump and buffer tank.
Earn up to 3 LEED points with recirculation.
Lower the HERS home index score.
Wi-Fi enabled with NaviLink® add-on.
Optional HotButton™ on demand control kit.
2013 AHR Innovation Award Winner.
NPE 180A – 240A
HIGH EFFICIENCY CONDENSING TANKLESS WATER HEATER
½ gas pipe capable up to 24′
Field convertible gas system
Ultra condensing efficiency
Dual stainless steel heat exchangers
Low NOx emissions (20ppm)
SCH 40, 2″ venting up to 60′
Cascading capable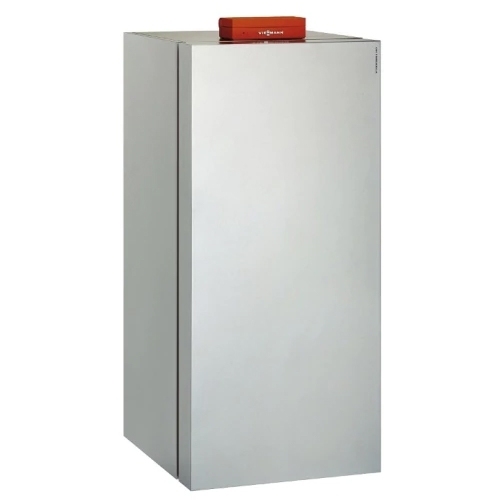 Gas-fired floor-standing boiler with stainless steel Inox-Crossal heat exchanger and MatriX dome gas burner. Rated input: 19 to 199 MBH (single) / 1592 MBH (cascade).
High mass condensing technology
The benefits at a glance
Compact, floor-standing gas condensing boiler from 19-199 MBH.
High efficiency of 95% AFUE on all models.
High temperature operation of up to 90°C (194°F).
Vitocrossal Pocket Design with wide water passage ways allow for system/full flow applications. No dedicated boiler pump required and eliminates primary/secondary piping.
MatriX dome gas burner with 5:1 turndown ratio to ensure high efficiency and extremely clean combustion.
High water volume extends burner run time and reduces cycling.
A self-calibrating Lambda Pro combustion management system ensures optimal combustion efficiency at all times regardless of gas/air quality. Simple commissioning with no field adjustments and adjusts to all fuel types (NG and LPG).
Durable, reliable, and long service life with Inox-Crossal stainless steel heat exchanger and high mass design.
Multiple venting options and configurations with vent lengths up to 198 ft.
Multi-boiler installation with 8 boilers up to 1592 MBH.
ENERGY STAR Most Efficient 2016.
The right choice for new construction or retrofits
With its combination of high temperature capability, high mass (water volume), floor standing design, condensing stainless steel construction and modulating gas burner, the Vitocrossal 300, CU3A is the ideal choice for boiler retrofits or new construction. From homes equipped with high mass cast iron radiators, to homes with multi-zone high temperature fin tube radiators, and new installations with high DHW requirements – the Vitocrossal 300, CU3A is the best choice on the market today.
The evolution of the condensing boiler has arrived
The Vitocrossal 300 CU3A is the perfect residential condensing boiler in many ways.