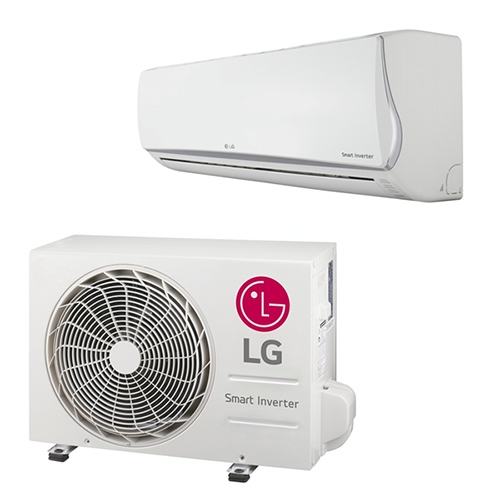 Description
The LG LS120HSV5 is a Ductless Mini Split System that consists of a LSN120HSV5 and a LSU120HSV5. This LG LS120HSV5 Mini Split Ductless Heat Pump Air Conditioner is a wall mounted 12,000 class BTU, single zone unit, complete with heat pump inverter. The LG LS120HSV5 System will improve your quality of life in an affordable, eco-friendly way.
Over the years, LG has strived to meet the demand for high quality ductless air conditioning solutions with greater energy efficiency, helping the environment while also reducing electricity costs for consumers. With LG greater energy savings are expected over the years, bringing remarkable cost savings to your home and business. Furthermore, LG's ductless mini split air conditioners are sturdy, reliable products with prolonged lifespans designed to provide years of worry-free performance.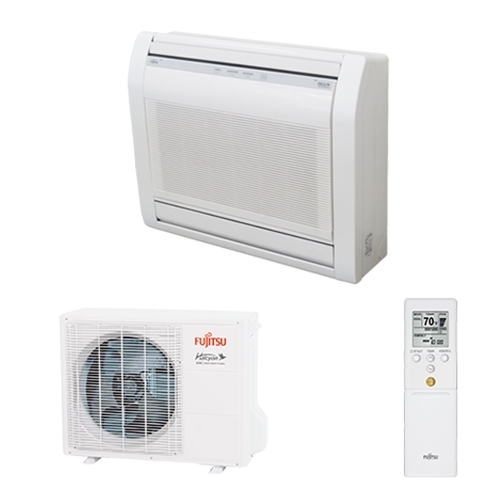 Description
The Fujitsu 12RLFFH ductless mini split system is a stylish and slim floor mounted air handler that fits perfect in any home or space. The Aesthetic, minimalist design delivers powerful cooling abilities while at the same time blending in to any room or with any decor.
Since Fujitsu ductless mini split systems have little to no ducting, they forego those energy losses typically associated central forced-air systems. Duct losses can easily account for more than 30% of energy consumption, especially if the ducts are not sealed tight or in an unconditioned space such as an attic or crawlspace. By getting a ductless mini split system you're not only getting a typically higher SEER rating, but you're also saving in energy loss.
Silver 13 Air Conditioner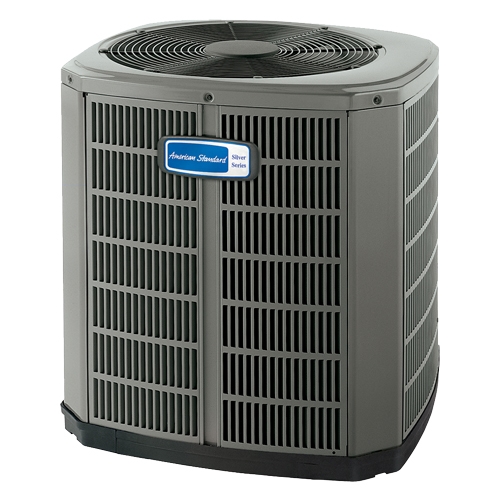 Description
A system that works smarter.
With the Silver 13 central air conditioning unit, you do not need to sacrifice impressive comfort for energy savings.  This A/C system's design provides your home with the reliable cooling you would expect from American Standard and the efficiency you deserve from a new central air conditioning unit.
Silver 13 Air Conditioner Highlights
By surpassing government efficiency standards, you can save up to 38 percent on your cooling energy usage while reducing greenhouse gas emissions* with this central air conditioning unit.
This central air system's design is an economical option for efficient and reliable cooling.
Cools with an environmentally friendly refrigerant that is ozone-safe.
This A/C unit's rust-resistant coating, screws and basepan protect your system from the elements.
XC13 SINGLE-STAGE AIR CONDITIONER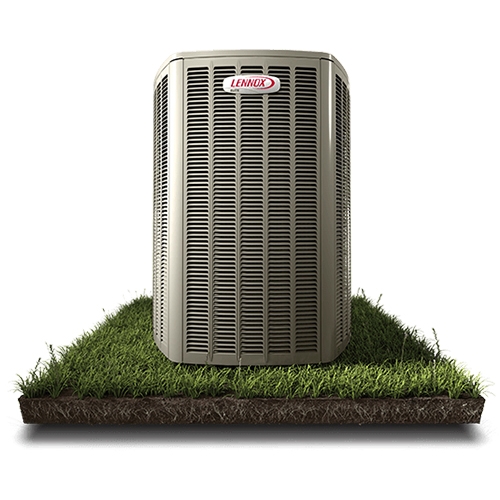 Description
XC13
SINGLE-STAGE AIR CONDITIONER
Precisely the kind of performance you might expect from Lennox
The compressor is the part of the air conditioner that pumps refrigerant to deliver the cooling your home needs. The XC13's scroll compressor is engineered to perform reliably and efficiently in the harshest conditions.
The perfect amount of quiet
To reduce operating sound levels, the XC13 uses a precision-balanced, direct-drive fan. This lets it operate at a volume as quiet as 74 dB.
Control your cooling and your humidity
Because it's compatible with the Humiditrol® whole-home dehumidification system, the XC13 can help your indoor air feel cool and comfortable, while maintaining proper humidity levels.
Rheem RA14 Air Conditioner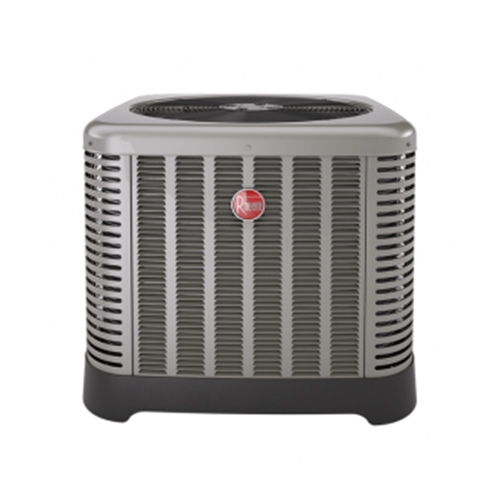 Description
The Rheem RA14 Air Conditioner offers the solid technology and energy-saving performance you've come to expect from Rheem. It's also quiet, so you won't give your indoor home comfort a second thought. Our Classic Series includes features that help fight corrosion, reduce leaks and enhance the overall strength of your air conditioner so you can be confident in the way it performs. A smart, efficient design makes the Rheem Air Conditioner one of your best options for staying cool inside. Each new unit includes a generous list of features that work together to bring you quiet, efficient and reliable indoor comfort.
Standard Features:
Diagnostic service window with two-fastener opening – provides access to the high and low pressure.
External gauge port access – allows easy connection of low-loss gauge ports
Single-row condenser coil – makes unit lighter and allows thorough coil cleaning to maintain "out of the box" performance
35% fewer cabinet fasteners and fastener-free base – allow for faster access to internal components and hassle-free panel removal
Service trays – hold fasteners or caps during service calls
QR code – provides technical information on demand for faster service calls
Fan motor harness with extra long wires allows unit top to be removed without disconnecting fan wire
Cabinet Features:
New composite base pan – dampens sound, captures louver panels, eliminates corrosion and reduces number of fasteners needed
Powder coat paint system – for a long lasting professional finish
Scroll compressor – uses 70% fewer moving parts for higher efficiency and increased reliability
Modern cabinet aesthetics – increased curb appeal with visually appealing design
Curved louver panels – provide ultimate coil protection, enhance cabinet strength, and increased cabinet rigidity
Optimized fan orifice – optimizes airflow and reduces unit sound
Rust resistant screws – confirmed through 1500-hour salt spray testing
PlusOne Expanded Valve Space – 3-4-5 service valve space – provides a minimum working area of 27-square inches for easier access
PlusOne Triple Service Access – 15 wide, industry leading corner service access – makes repairs easier and faster. The two fastener removable corner allows optimal access to internal unit components. Individual louver panels come out once fastener is removed, for faster coil cleaning and easier cabinet reassembly